Marketing Kitchen - "Plastic Reduction in the Value Chain"
"While we think that each one of our environmental initiatives is important, we believe that what sets us apart is our comprehensiveness, from large scale investments such as our KM1 printer and our two
Powerfoil industrial ceiling fans, and replacing 235 incandescent light bulbs, to our thoroughness, in finding creative ways to reduce the use of plastics in the workplace and encouraging environmental
practices by our employees inside the company but also in their day‐to‐day lives". Read More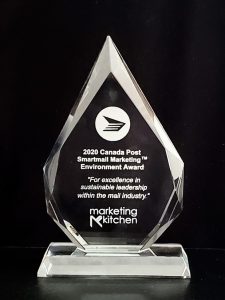 Lowe Martin - "Robust Sustainability Platform"
"Responsible Mail has the potential to be a game changer for the mail preparatio industry. It directly addresses many of the concerns that consumers express about traditional mail and prepares mail providers for the upcoming regulatory environment. A program like Responsible Mail is within reach of any mail provider who is willing to invest in measurement tools, updated equipment, and renewable energy."
Read More

AIIM's carbon neutral direct mail, a North American first
"AIIM, a leading provider of omni-channel marketing communication solutions, is committed to working with its customers to minimize the impact on the environment of its products and achieve its carbon footprint goals. In April 2022, with its acquisition of Prime Data, AIIM launched the Carbon Neutral Direct Mail Program, North America's first and only carbon neutral direct mail from tree to mailbox. After commissioning a study to understand the carbon impact of paper, production in the plant, and the delivery of mail to the post office of its millions of pieces of mail, AIIM gained an understanding of its core greenhouse emission sources. The study found that an average piece of AIIM mail weighing 20 g generated an average GHG footprint of 205 g (the equivalent of driving about 830 m in an average passenger vehicle) throughout its entire lifespan including forestry, paper production, employee commute, printing, distribution, and end-of-life processing. Collaborating with customers, the company set a goal for all direct mail produced by AIIM to be carbon neutral (net-zero through offsets), and to continue to reduce its greenhouse gas emissions. Carbon emissions are calculated and offset using the Great Bear Rainforest Carbon Offset Project in British Columbia. Interested in learning more about AIIM's study?" Click here
Moving shared direct mail from plastic to paper at DRMG
"Direct Response Media Group (DRMG), one of Canada's leading direct marketing companies distributing through 175 million shared media products, recently completed a major transition in its journey towards a more sustainable direct mail solution: moving from plastic to paper for its shared product solution. As an industry leader, this evolution stems from DRMG's commitment to its core values while positively impacting the direct mail industry. Its shared product solution included a shared wrap where customers could share advertising space with printed material inserted into a plastic polybagged wrap. Moving to paper required investment in new equipment, transitioning people internally between plants and included senior executive commitment to join other industry leaders as part of the Sustainable Mail Group. In December 2022, DRMG successfully transitioned over 20 million plastic wraps to the paper product, significantly ahead of plan. Its direct mail shared products are now 100% plastic free and, as a result, DRMG has eliminated 147,000 pounds of plastic in the mail stream. It also had a powerful impact on client and end-user customer satisfaction. As Canada's most trusted and recognized shared direct mail envelope for monthly coupon advertising, menus, catalogues and more, this solution demonstrates the opportunity to leverage sustainable innovation in our industry."
To learn more about the DRMG Sustainability Award, click here.